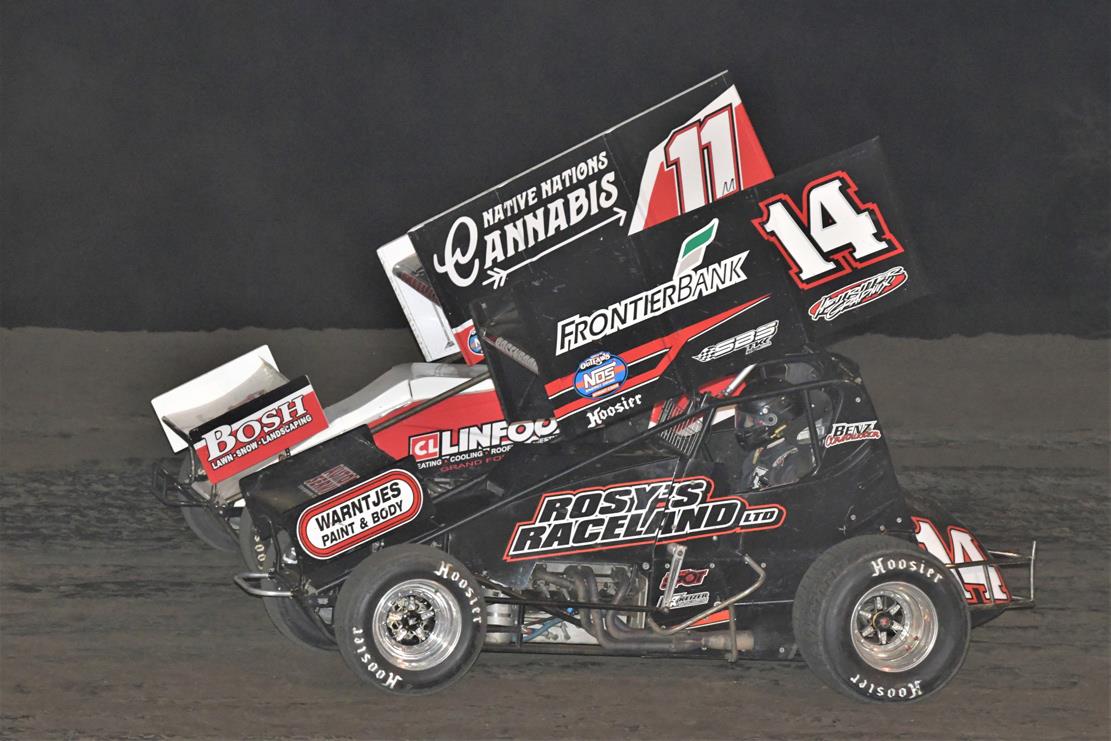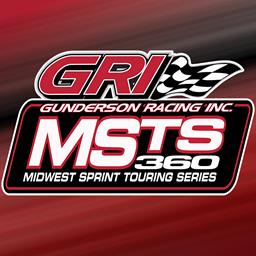 7/12/2021
MSTS 360 Midwest Sprint Touring Series
---
MSTS prepares for 3 events in 5 nights
The Property Solutions of America Midwest Sprint Touring Series will rev up the engines for a double-header of action this weekend followed by a special Tuesday night event. The MSTS road warriors will join the QualityFreightRate.com Midwest Power Series at Jackson Motorplex this Friday before returning to I-90 Speedway on Saturday. The series then travels to Rapid Speedway in Rock Rapids, Iowa, this Tuesday for the annual Lyon County Fair Race.
Jody Rosenboom will lead the charge into the weekend of racing. The driver of the Frontier Bank #14 is the most recent MSTS winner, taking the checkered at I-90 Speedway on July 3. Rosenboom also sits atop the series standings. With the recent win, Rosenboom became the seventh different driver to score a victory this year in as many races. Ryan Bickett claimed the MSTS win at I-90 Speedway on June 12.
Friday's trip to Jackson Motorplex in Jackson, Minnesota, is the second appearance for the Midwest Sprint Touring Series there this year. Lee Grosz took career win 12 with MSTS when he claimed the win there on June 11.
As for Rapid Speedway, the event that also features modifieds and the RepairableVehicles.com Tri-State Late Model Series, will be the third trip into Rock Rapids for MSTS this year. Jack Dover picked up the Rapid Speedway in on May 21 of this season, while Justin Henderson claimed the top spot on June 18.
If you can't make it to the speedways, the Jackson event will be broadcast by Flo Racing. The Rapid Speedway show will be covered by www.advantageracing.tv and www.midwestsprint.tv.
Here is a complete look at feature event winners at the upcoming speedways:
Jackson Motorplex (31 events):
May 30, 2015 Lee Grosz
June 13, 2015 Casey Friedrichson
June 27, 2015 Dusty Ballenger
July 11, 2015 Gregg Bakker
July 25, 2015 Bill Boles
June 1, 2017 Jack Dover
June 2, 2017 Thomas Kennedy
June 3, 2017 Jack Dover
June 9, 2017 Gregg Bakker
July 7, 2017 Lee Grosz
August 25, 2017 Gregg Bakker
June 1, 2018 Ryan Bickett
June 15, 2018 Jack Dover
June 29, 2018 Thomas Kennedy
July 20, 2018 Dominic Scelzi
August 17, 2018 Justin Henderson
August 24, 2018 Jordan Martens
August 31, 2018 Jack Dover
September 1, 2018 Gregg Bakker
September 2, 2018 Jack Dover
May 31, 2019 Brooke Tatnell
June 7, 2019 Jack Dover
July 12, 2019 Lee Grosz
July 19, 2019 Wayne Johnson
August 17, 2019 Lee Grosz
August 30, 2019 Josh Baughman
August 31, 2019 Thomas Kennedy
September 1, 2019 Lee Grosz
June 19, 2020 Matt Juhl
July 17, 2020 Justin Henderson
June 11, 2021 Lee Grosz
I-90 Speedway (12 events):
May 9, 2015 Lee Grosz
July 4, 2015 Troy Schreurs
July 6, 2019 Jack Dover
July 27, 2019 Jack Dover
May 30, 2020 Jack Dover
June 6, 2020 Jack Dover
June 13, 2020 Justin Jacobsma
July 4, 2020 Elliot Amdahl
July 18, 2020 Ryan Bickett
July 25, 2020 Jack Dover
June 12, 2021 Ryan Bickett
July 3, 2021 Jody Rosenboom
Rapid Speedway (23 events):
May 1, 2015 Lee Grosz
June 26, 2015 Eric Lutz
September 11, 2015 Ryan Bickett
September 12, 2015 Robby Wolfgang
July 19, 2016 Tim Kaeding
May 5, 2017 Tim Kaeding
June 30, 2017 Dusty Ballenger
July 18, 2017 Tim Kaeding
August 18, 2017 Gregg Bakker
September 15, 2017 Jody Rosenboom
May 4, 2018 Lee Grosz
May 18, 2018 Jack Dover
July 17, 2018 Lee Grosz
September 14, 2018 Lee Grosz
June 14, 2019 Justin Jacobsma
July 23, 2019 Jack Dover
September 6, 2019 Jack Dover
July 10, 2020 Jack Dover
July 21, 2020 Terry McCarl
August 21, 2020 Justin Henderson
September 26, 2020 Jack Dover
May 21, 2021 Jack Dover
June 18, 2021 Justin Henderson
---
Submitted By: Shawn Neisteadt
Back to News